TYPE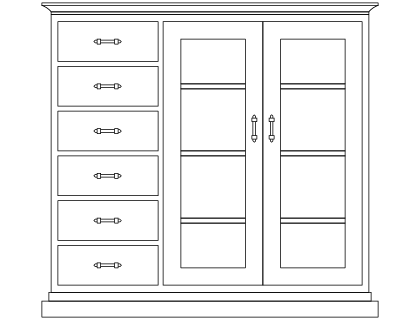 Living Room Cabinet
Fifth Generation Azuma Fukutaro was awarded the Grand Prize at the Kyoto Traditional Arts and Crafts New Artist Exhibition for this model. It is also the model that started the Fuga series. Inside the glass doors on the right, there are three movable shelves that can be used to store various items of interest such as wine glasses and antiques. On the left side, there are six small drawers crafted by employing traditional techniques.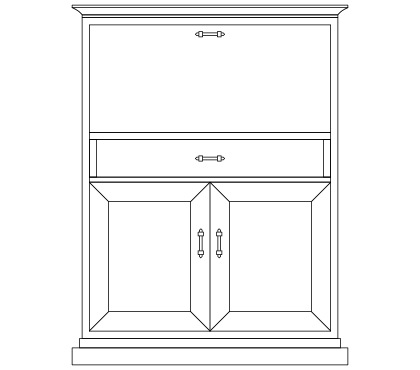 Writing Bureau
This model was made to match the living room cabinet of the Fuga series. The top door opens to become a study. In the center, there is a drawer made using traditional craft techniques. Lastly, the bottom door opens to reveal a movable shelf. We also have other chairs and table sets in the Fuga series that match the living room cabinet and writing bureau.

TV Cabinet
On the left side there are two traditionally-crafted drawers, in the middle, there are double doors, and on the right, there is a single swing door. The middle doors open into a space that has a hole in the back panel for wiring to be pulled through so that a DVD player or other AV equipment can be conveniently housed within. Moving shelves are also provided to accommodate various sizes of AV equipment. There is also a movable shelf behind the right door, which can be used in various ways depending on the items to be stored.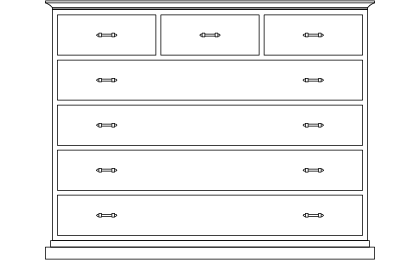 Five-Drawer Chest
This chest consists of three small drawers along the top, and four large drawers stacked vertically below. It comes with a few hidden compartments. For security reasons, the hidden compartments will only be revealed to customers who have purchased the product. Furthermore, custom orders for hidden compartments can also be accommodated.
OTHER